To mark the occasion of the 5th annual Southampton Film Week delivered in City Eye's 25th year, we felt something special was called for and so launched our own filmmaking competition with SFW: Shorts. To reflect City Eye and Southampton Film Week's broad offer, we invited films of all production techniques including animation, drama, documentary, experimental and non-narrative – we simply said that films should be no longer than 10 minutes.

Michael was a supporter and advocate for City Eye throughout its history and whilst he was Arts Officer at Southampton City Council and then Hampshire County Council.
During his time at SCC he was also involved in setting up Southampton Film Festival, the forerunner to SFW, which began in the 1980s and continued into the 90s. He remained passionate about film and indeed the cultural welfare of Southampton and the wider region. He was a member and Chair of the Phoenix Film Society. Michael died in December last year. His support and counsel is missed but we are so pleased that Michael's wife, Lesley, has approved the creation of this memorial to him.

Winner - 30% by Anna Cady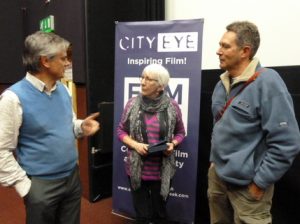 Congratulations to Anna Cady who won the SFW: Shorts competition and became the first recipient of the Michael Fuller Award for Best Film with 30%. The film beat off competition from 13 other short films and was selected as best film in the Audience Vote also.
We were thrilled to find out on 4 December that the wonderful 30% has also been selected by Sundance film Festival in the Documentary Short Film category. Short Film 30%, the story of the ten year battle to achieve fair representation for women in the governance of Sierra Leone, is revealed to us with passion by three extraordinary women from diverse backgrounds. Bernadette, Salamatu and Barbara share their stories of the 'road blocks' women face within the world of politics in Sierra Leone. The film moves effortlessly between Em Cooper's exquisite oil painted animation and live action video – so transforming issues of gender and politics into compelling and thought provoking viewing. 30% is the only UK film selected in this category and we wish Anna every success at the festival in January. For more information about this film and Anna's work visit www.annacady.com
| Title | Director | Synopsis | Duration | Awarded |
| --- | --- | --- | --- | --- |
| A Hero's Journey | Riyadh Haque and John McGinty | A Princess is kidnapped by an evil villain and her one true love attempts to save her. Will the hero reach her in time? | 4:00 | Awarded Joint Second and Third Place |
| Give Blood | Rachel Stephens | A women's life is changed forever when a mysterious stranger knocks on the door. | 2:20 | |
| Meeting Her There | Stephen Bull | A man goes to meet his love, reminiscing on their past meetings as he goes. | 3:31 | |
| The Pepperdine Effect | Truth at 88mph | Entry to DV Mission 2012 the 48 hour filmmaking challenge. | 2:00 | |
| Tim Johnson – Maker | Pete Thompson | Tim Johnson, artist and maker shares his skill with Winchester school children. | 2:41 | |
| First Date | Riyadh Haque | 'Every first date is different' Two people meet for a memorable first date. | 4:00 | |
| Down to the Woods | Mike Torr | A father allows his son to explore alone in the local woodland. | 10:00 | |
| Tales of the Troll | Deanna Dewey | Sally and David are meeting their friends to go together to a party but their usually prompt and reliable friends fail to show up. | 6:04 | |
| A Woman's Place | Edward Lyon | After years of appreciating his wife's great cooking, things change and he asks her why. | 3:00 | |
| Bugsplat | Adam Morris | An experimental film which explores the theme of guilt and is based on the true events taking place in Pakistan. | 9:00 | |
| Funeral Summons | Elkie Yates | A woman attends a funeral… | 4:56 | |
| In My Shoes | Hermina Campbell | A daughter is appalled to discover her father is a transvestite. | 8:00 | |
| Bittersweet | Riyadh Haque | 'Perfect. Tumultuous. Inevitable.' The chronicle of the decline of a relationship. | 3:00 | |
| 30% | Anna Cady | Three powerful women tell stories of kidnap, corruption and secret societies as they fight to improve the position of women in politics in Sierra Leone. | 10:00 | First Place and winner of the Michael Fuller Award for Best Film |
| This Day | Sam Moles | An exploratory short delving into an elderly man's life, revealing the difficulties he faces with his growing age. | 9:27 | Awarded Joint Second and Third Place |