The College Filmmaking Challenge, previously known as the Wessex Colleges Filmmaking Challenge has produced some incredible short films over a number of years and inspired young filmmakers to continue their filmmaking careers, many through university, into the industry. Students from regional colleges such as Ringwood School, St.Vincent's College, Barton Peveril Sixth Form and Farnborough College have all taken home prizes in recent years. 
The College Filmmaking Challenge has yet to make it's post-COVID return however there is still opportunities for young filmmaking talent to be celebrated at SFW and at City Eye.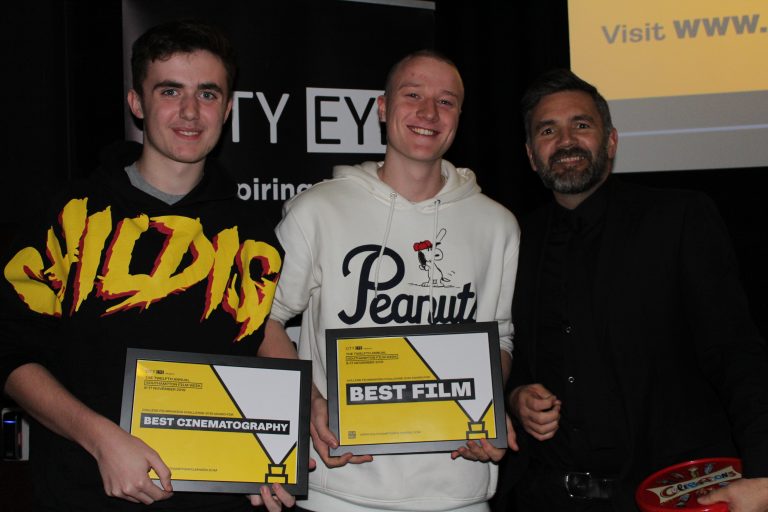 The College Filmmaking Challenge screening and awards in 2019. Students from Ringwood Sixth Form College picking up their awards for Best Film & Best Cinematography.
"I found the College Filmmaking Challenge was a great opportunity to challenge myself and my creativity. I would highly recommend it to any budding filmmakers!"
"I heard about the College Filmmaking Challenge through a colleague at another college and it sounded fantastic. I was looking for more local competitions to inspire my students to get out there and film - this fitted the bill perfectly. The challenge has really helped with teamwork, ideas generating, meeting deadlines and of course more practicing with cameras and editing software. Seeing all the students work on the big screen is brilliant, and not something they get to experience often. The film challenge has become something the year 12s look forward to and they see it as their pathway to year 13. Its fantastic and long may it continue!"