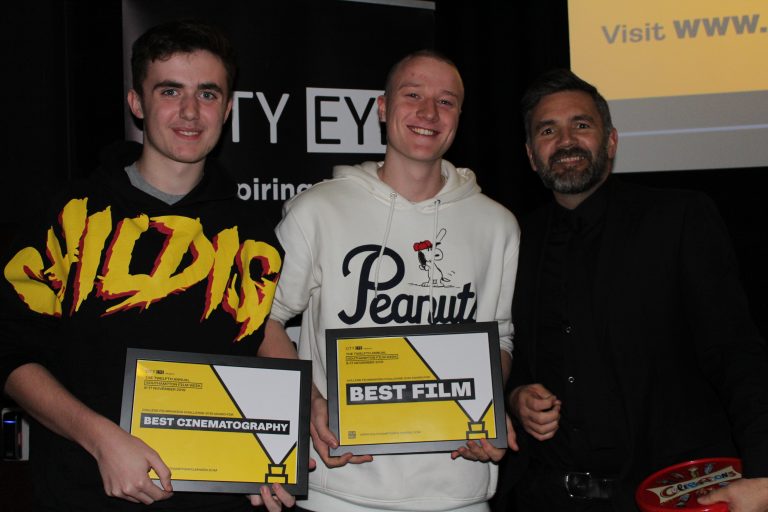 The College Filmmaking Challenge screening and awards in 2019. Students from Ringwood Sixth Form College picking up their awards for Best Film & Best Cinematography.
The College Filmmaking Challenge has returned for SFW 2021
College Filmmaking Challenge 2021
Make a short film:
4 minutes max
Using the Title:
The Return
And the Line of Dialogue:
"Well, that was unexpected."
Submit to your college by Friday 8th October 2021
Up to 3 Films from each participating college will be screened during SFW 2021
– with prizes to be won!
​
The College Filmmaking Challenge is a competition for AS/A2 and BTEC Level 3 students to produce a short film meeting 3 simple criteria. Given just the title and a line of dialogue students are challenged to make a film up to 4 minutes in length – but beyond that, creative freedom is theirs! The films will be judged, screened and awarded prizes during Southampton Film Week so they must, in the opinion of the student's own college and SFW organisers, be suitable for a public screening.
All students taking part must submit their finished film to their college film/media department by Friday 8th October 2021. Each participating college will then choose up to 3 films to be screened during Southampton Film Week 2021. If you are a student who would like to take part please check with your college film or media department before contacting City Eye. If you are a teacher who would like your students to participate or for any other enquiries please Contact Us.
"I found the College Filmmaking Challenge was a great opportunity to challenge myself and my creativity. I would highly recommend it to any budding filmmakers!"
"I heard about the College Filmmaking Challenge through a colleague at another college and it sounded fantastic. I was looking for more local competitions to inspire my students to get out there and film - this fitted the bill perfectly. The challenge has really helped with teamwork, ideas generating, meeting deadlines and of course more practicing with cameras and editing software. Seeing all the students work on the big screen is brilliant, and not something they get to experience often. The film challenge has become something the year 12s look forward to and they see it as their pathway to year 13. Its fantastic and long may it continue!"
The College Filmmaking Challenge, previously known as the Wessex Colleges Filmmaking Challenge has produced some incredible short films over a number of years and inspired young filmmakers to continue their filmmaking careers, many through university, into the industry. Students from regional colleges such as Ringwood School, St.Vincent's College, Barton Peveril Sixth Form and Farnborough College have all taken home prizes in recent years. Click on the images below to find out more about each year and to watch the films!