Join the Southampton Film Week team!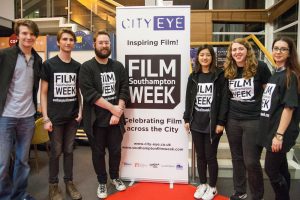 SFW is run by City Eye's small (but brilliant!) team of staff and volunteers. Everyone is extremely hard-working, loyal and passionate about what we do! Our mission which is to 'celebrate film across the City' and we do this by screening great films at wonderful venues – some predictable and some unexpected – and ensuring that our audiences have inspiring and memorable film experiences.
Due to the Covid-19 pandemic and restrictions this has created for cinemas and screening venues, Southampton Film Week will feel a little different this year.  We are hoping to deliver a hybrid festival with events online and in the real world and that will mean that the role of our volunteers might differ from previous years. 
We would still love to hear from you, however, and if anything this year might offer the opportunity for people not located here in Southampton to be more involved.  In particular having a strong team of people to support SFW via social media and by creating content for our own website will be invaluable so please do let us know if you would like to be involved in this way.
We are eager to build our volunteer team for SFW 2020 so please let us know if you are interested in joining the fun.
Events take place throughout each day from 6th – 15th November and include evening events and screenings. If you are unable to commit to particular days or times please don't be deterred – no-one has to attend all events  and we we would still love to see if you can be involved.
If you think you could help us make Southampton Film Week 2020 the best SFW yet please fill in the form below and we will contact you.