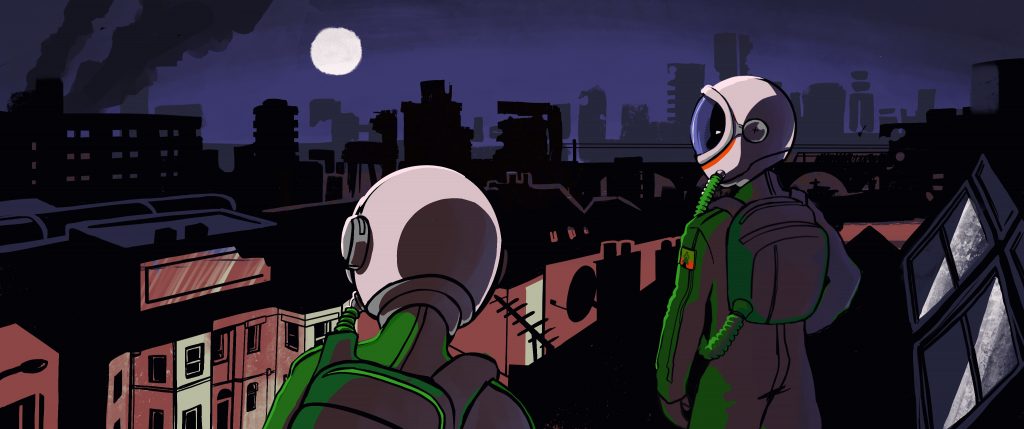 Larry Achiampong's Reliquary 2
John Hansard Gallery –  Online Exhibition: 1 October – 31 January
Reliquary 2 is a new film by artist Larry Achiampong, especially commissioned in response to COVID-19. The short film is formed of animated sequences and unseen drone footage from Achiampong's personal archives, complemented by an original score composed and performed by the artist.
The film is a meditation on a period of separation between Larry Achiampong and his children, where the artist observes his own familial narrative within the pandemic and the trauma of forced isolation during unprecedented times. Speaking directly to his children, Reliquary 2 is an archive of contemplative prose and a historical record during what has been a surreal and challenging period for many.
Friday 20th November – 4-5pm: Join artist Larry Achiampong in conversation over Zoom with the University of Southampton's Dr Nisreen Alwan and Dr Priti Mishra, as they discuss Achiampong's new film Reliquary 2. Click here to find out more and book your free place.
Ancestry and familial relationships are integral to the artist's examination of postcolonial identities. Previously where he has revisited memories of the past with his mother, this piece is consciously projected towards the future, using the present to provide and shape a dialogue with his progeny. In engaging in this form of intergenerational dialogue, the experiences of the present are regarded with a consideration that has been historically absent in the treatment of our ancestor's narratives.
Agency and technology are a primary focus in Achiampong's practice and have proven prescient especially as a response to the stasis of a period of enforced quarantine. Digital technology has been relied upon for many as the sole means of interaction and communication and has become embedded within our daily lives to become an intimate projection of ourselves as much as avatars to hide behind.
Reliquary 2 features animation by Wumi Olaosebikan and is a continuation of the Relic Traveller series (2017), a multi-site and multidisciplinary speculative project that builds upon a postcolonial perspective informed by technology, agency and the body, and narratives of migration. Mixing the visual poetry with generational healing, the series explores past, present and future, through narratives of Pan Africanism and African diasporic identity in relation to colonialism, postcolonialism and the heightened nationalism of current times.
Larry Achiampong is represented by Copperfield, London.
Visit jhg.art to watch the film.