Film Week 2022 is over, but what a week!  It was lovely to see so many people out and about enjoying such a range of films and events in the city.  We are sad to think it's all over until next year, but thought we'd take a moment to reflect on some highlights…
We opened Film Week on Friday 11 November with a fantastic launch concert at Turner Sims, featuring a beautiful performance from pianist and creative coder Larkhall. Larkhall performed with his software partner Otto to create stunning visuals to match his rousing music. The following morning we welcomed Larkhall at City Eye to host a workshop introducing Otto and how to use the software to create live visuals for any audio. Saturday also saw the launch of Dream Palaces: Where are they now? a video presentation by local historian and cartoonist Al Welch re-examining the historic movie theatres shown in the 1996 book Dream Palaces Going to the Pictures in Southampton, pairing original photos with the building or sites as Al found them when he visited and photographed earlier this year.
Saturday night brought SFW: Shorts Screening and Awards ceremony! It was a night of brilliant filmmaking talent as we screened the 19 films shortlisted in this year's competition, and we were honoured to have Michael Fuller's wife Leslie in attendance to present the eponymous award for Best Film. For a full rundown of the shortlist and the winners, click here!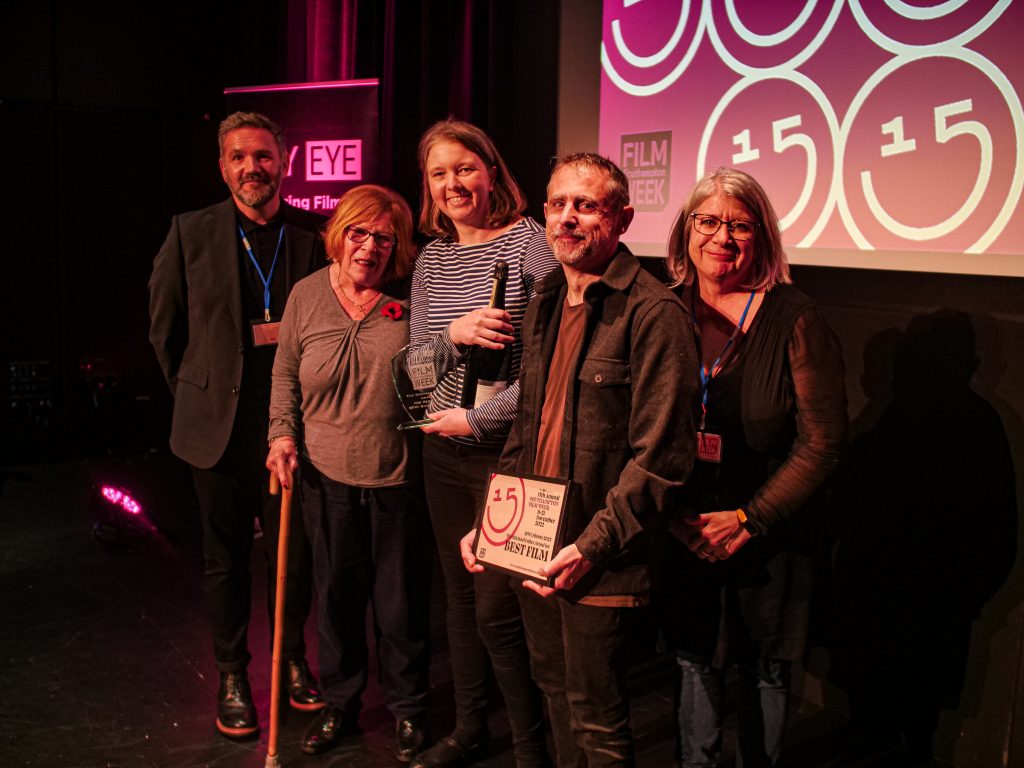 Sunday afternoon took us down to God's House Tower for a filmmaker Q&A between knit the walls artist sarah filmer, and local filmmaker Imogen Dunlop who has made a film to mark the end of this beautiful project. Then, on Sunday night the Stage Door hosted us for a screening of the drag artiste documentary Maisie; a perfect setting for such a beautiful film!
We kicked off the following week off with a preview of the smash hit documentary A Bunch of Amateurs at Solent University; greatly enjoyed by the entire audience and not a dry eye in the house! And then on Tuesday, we had two events to choose from! Celebrated organist Richard Hills provided immersive and highly entertaining live accompaniment to the Buster Keaton classic Sherlock Jr at the Guildhall! It was great to see such a huge crowd enjoying the historic Compton pipe organ as it would have been at the time Sherlock Jr was originally produced. Meanwhile, over at Solent University Darren Kerr, Head of Film and TV, hosted a Q&A screening of the moody Guatemalan drama Los Fantasmas, where we were joined by the film's producer Remi Itani for a fascinating discussion about the film and her career.
Wednesday saw us at home with John Hansard Gallery hosting videoclub: selected 12, a programme of intriguing and creative films by up and coming artists, plus a Q&A with one of the artists involved. Then, the Phoenix Film Society screened the Japanese Oscar winning Drive My Car, a touching story about grief and moving on. Thursday saw SFW launch at MAST with a programme running through until Saturday evening.  We were once again thrilled to collaborate with the national youth film festival, Into Film, and offer two screenings for school groups, starting with Clifford the Big Red Dog and then showing Sing 2 on Friday.  It was fabulous to welcome so many young people, all of whom had a fantastic cinema experience and did their parents and schools proud with impeccable behaviour and enthusiasm!  Our Thursday afternoon film introduced audience to the new ICO film Right of Way, which combined heritage archive footage with new artist moving image work to tell a story of accessibility and exclusion in the modern countryside. At the same time, Dr Stuart Joy hosted a talk at Solent University examining the short films of Christopher Nolan, and the critical and cultural value afforded to them. To follow this, the evening film at MAST was Nolan's sci-fi epic Interstellar, whilst over at Turner Sims a trio of musicians from Yorkshire Silent Film Festival performed a moody and atmospheric live score for Alfred Hitchcock's first thriller, The Lodger: A Story of the London Fog. A unique experience enjoyed by a fabulous audience buzzing with appreciation in the bar afterwards!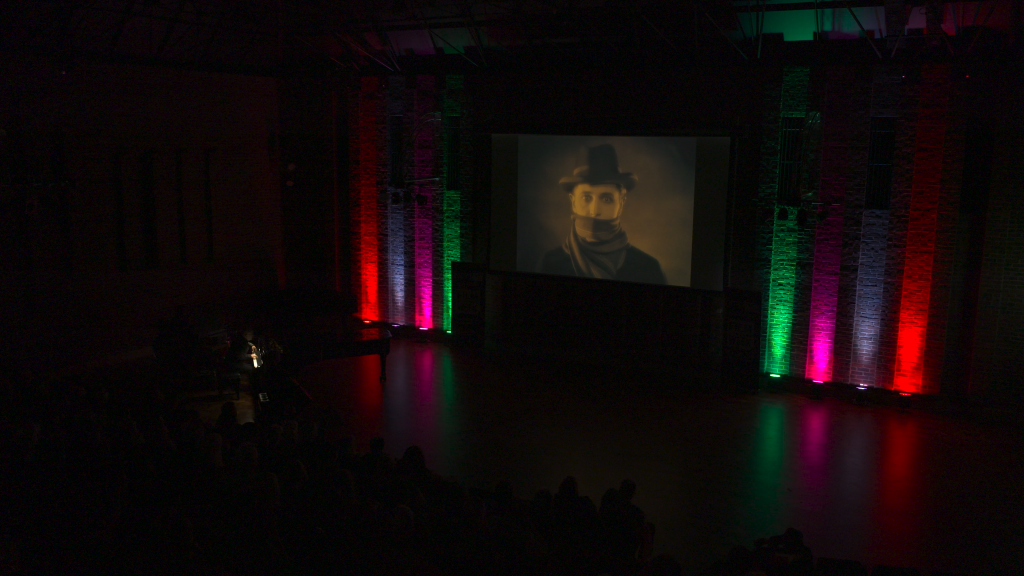 Friday started with Solent University's annual CGFX Festival, a day of multiple talks and industry speakers from the field of video games and animation across the campus. Our Friday afternoon at MAST presented the exquisite Spanish docu-fiction, My Mexican Bretzel and our Friday night headline screening was the heartwarming and comedic Queen of Glory.
The final weekend of Film Week got underway with our planet day on Saturday, presenting films and events focused on climate and the environment. The animated classic Secret of NIMH played in the morning, telling the story of a family forced to flee their home's imminent destruction, followed in the afternoon by the beautiful and poignant Indian documentary All That Breathes, about two brothers in Delhi protecting the bird known as the Black Kite. Local filmmaker Paul Maple presented his in-progress new film Climate Change: What Now? to an audience at City Eye with a Q&A, and finally MAST was the venue for the new USA/Rwandan sci-fi punk musical Neptune Frost, about a technological uprising against a cruel and destructive regime.
With only two further events to squeeze in, Sunday night was the perfect opportunity to throw out the challenge of the annual SFW Film Quiz! Once again in the hands of quiz maestro Mike Vaughan, ten teams competed for the glory through rounds of film trivia, soundtracks, tauntingly unfamiliar actors and a re-enactment round! In the end, only one team could be victorious, and the winners walked away with chocolates and film week t-shirts. Closing out #SFW22 on Monday 21 November, Zoë Viney from Wessex Film and Sound Archive presented an introduction to the vast holdings of the archive including the work of women amateur filmmakers from across the region.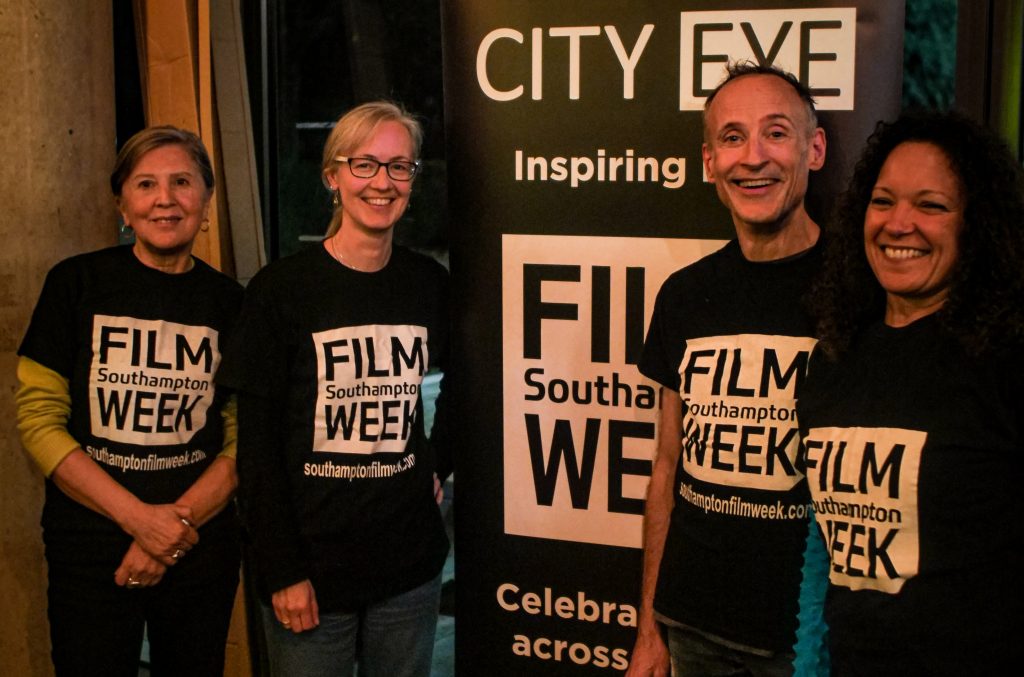 Whew! It truly was a whirlwind of a week, and we hope you enjoyed the programme! What were your favourite events, or any films you were glad to catch? Did you take any great photos at the events? We'd love to hear from you, so get in touch!
And finally, a gentle reminder. If you have not already done so, we would really appreciate your time to fill out a brief survey – for each film or event you came along to. Your feedback will help inform future Southampton Film Week and BFI strategy and supports our requests for funding to enable future Southampton Film Week and City Eye activity.
You can find the survey here, and in the meantime, why not sign up to the City Eye mailing list to stay informed on all things film in the city and wider region?