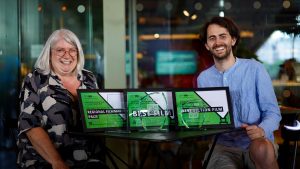 Our flagship event, SFW: Shorts has a global reach as well as a strong local following. With entrants (and often winners) working on films all around the world occasionally we have awards that need to find their new owners at the end of each festival.
In 2020 we staged our popular SFW: Shorts awards ceremony online and so found ourselves in the unusual position of needing to unite awards with their new owners. 
Rose Pandemic picked up three awards in 2020: Best Fiction Film, The Regional Filmmaker Prize and The Michael Fuller Award for Best Film. As Covid restrictions eased this year, the Director of City Eye, Susan Beckett, was able to finally present the film's awards at BFI Southbank to Thomas Shawcroft (Producer and Director of Photography Rose Pandemic). 
Slightly further afield than London, the award for the Best Documentary travelled south to Portugal…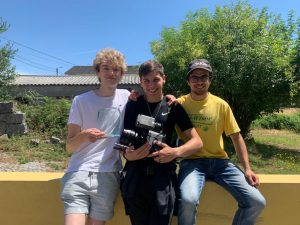 Kieran Black the Producer sets the context:
"We are so grateful to City Eye in receiving the award for our Documentary "ROIET". It was part of a university assignment to make a short documentary on any subject we wanted and the three of us were passionate in exploring Roiet's story and his farmland, and we are very happy to get the recognition for his story at Southampton Film Week.
As this photograph was taken, we had completed shooting our new fiction short film "Alaúde". The story is set after the arrival of a traditional Fado music band to the village of Sobrosa, Portugal. 
We have been working together (Kieran Black – Producer, Romà Cots – Director of Photography, João Magalhães – Director & Writer) for a year developing the project and have worked closely with Sobrosa City Council and the local community in making Alaúde a reality."
We hope that Kieran and the team's new film will be premiered at SFW 2021 – more details to follow. 
Our SFW: Shorts awards night will be launching Film Week on Friday 5th November. Submissions are open until September 30th – where will the awards travel to next!?
Have a short film under 10 minutes? Enter SFW: Shorts 2021 here.