Southampton Film Week is pleased to partner with Skate Southampton to present this screening of the UK Skateboarding documentary - BOARDERS on Sunday 12th December.
BOARDERS 2021 | Cert 15 |1h 32m
Following s a group of British skateboarders on their journey towards Tokyo 2020, where skateboarding will make its debut as an Olympic sport, Boarders tells the story of skateboarding in the UK - from arriving in the early 70s all the way to its current-day popularity and rise to become an Olympic sport.
Directed by Sean Fee & Annika Ranin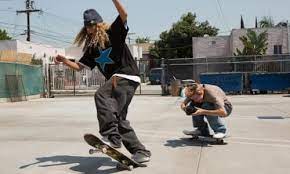 This screening is part of Skate Southampton's community event CLUBHOUSE  in partnership with Jackpot Peanut Butter. 
Boarders will be shown with the kind permission of Bohemia Media.
Free to all ages - advanced booking only!