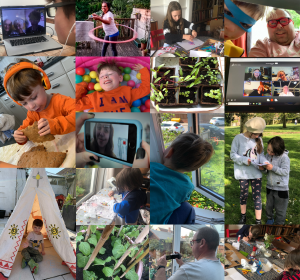 In spring 2020 as the Covid-19 virus spread across the world the UK was plunged into  a lockdown which imposed restrictions on the way in which we could all socialise, travel, work, go to school and college, exercise, shop, and more.  With concerns for people's mental and physical health, the pressure placed on parents attempting to work and educate at home, the stresses of living on top of even our nearest and dearest, along with all our worries about the pandemic, many cultural organisations applied themselves to creating projects and opportunities for people to engage with at home – from on-line quizzes to poetry workshops, ballet classes to crafting!  City Eye, Southampton's community film resource, launched its project Lockdown Days, with a call to residents of Southampton to help create a film document of Lockdown by capturing footage which in some way told their own personal story.
Whilst originally the call asked for up to 90 seconds of unedited footage, the people of Southampton have been very creative in their response and submissions range from clips of film capturing moments in nature and the weather to everyday activities – and even some edited short films.  
As an outcome, the project speculated about a compilation of the footage into a piece that summed up or represented Southampton's experience of lockdown and might be shown during Southampton Film Week 2020.  In reality, and over 6 months on, we find ourselves back in lockdown, again seeking to reduce the spread of the virus, protect lives and protect the capacity of our health service to manage the rising numbers of people affected by Covid-19.
And so as lockdown continues, so does Lockdown Days, and City Eye continues to collect footage from the people of Southampton. The intention is still that this will become part of the city's record of this period in time – but at a future and appropriate time.   For now, we are offering a glimpse into the growing archive by sharing some of film sent to us thus far.
We are still eager to receive your footage.  All of the instructions can be found at City Eye's Lockdown Days.  We have suggested 90 seconds of film shot by whatever means you have, but you can submit for free as many times as you like, and if you're a little over 90 seconds we might not notice!  We are also very interested in what you already have, maybe just sitting on your phone.  It is these film moments, something that caught your eye, which often tell the strongest stories about the everyday or about your unique perspective of life during lockdown.  Send us your film and be part of Southampton's story of lockdown.
---
During this year's festival Southampton Film Week will be sharing online some of Lockdown Day entries submitted so far.