Dir: Isaac Julien | UK 2008 | 76 Min | Lang: English
Poetic and award-winning documentary by artist-filmmaker, Isaac Julien.
This film celebrates the life and work of film-maker, artist and gay rights activist Derek Jarman. Interview footage, musings from Tilda Swinton, archival footage and segments from Jarman's work weave together to build a portrait of a bold, inspiring and multi-dimensional character.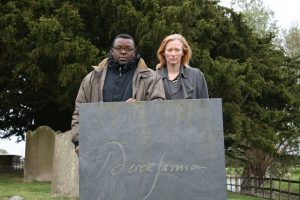 Isaac Julien and Tilda Swinton in Isaac Julien's Derek, 2008. Photo Nina Kellgren. Courtesy of the artist.
We are delighted to present this film during Southampton Film Week in anticipation of Derek Jarman's Modern Nature exhibition at John Hansard Gallery, opening 27 November 2021.
In a collaboration with Tilda Swinton, Derek, poetically tells the story of Derek Jarman through extensive use of archive footage. The documentary is centred in a day-long interview Jarman gave to Colin McCabe in the 80s.
From Sebastiane (1976) to Blue (1992), Derek Jarman's films constantly interrogated time and art, and epitomised his own era. He was a painter, part of that moment that made sixties London a capital of the art crucial figure of British independent cinema through the seventies, eighties and nineties. He lived as a gay man surging the joys of Gay Liberation and the sorrows of AIDS. He lived as a participant observer, noting with pen or camera all that passed before him - from punk to Thatcher, from Hampstead Heath to film premiere.