LOVE ACCORDING TO DALVA
Cert 15 | 2022 | Dir. Emmanuelle Nicot | Drama | France/Belgium | 85 mins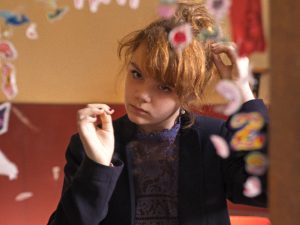 Feature film screening with The Phoenix Film Society at Union Films.
Dalva (Zelda Samson) lives alone with her father. She's only 12 years old and baby-faced, but wears grown-up clothes and heavy make-up, with her hair scraped into a bun.
When the police storm into their home and take Dalva into care, her whole world view shifts. Befriending her new roommate Samia (Fanta Guirassy) and looked after by kindly social worker Jayden (Alexis Manenti), she gradually comes to understand that the relationship she shared with her father was not what she believed it to be. With their help, she begins to learn how to be a child again.
In her poignant feature debut, director Emmanuelle Nicot explores the ramifications of childhood sexual abuse with sensitivity and grace, rejecting a sensationalised depiction of trauma and examining the complexity of coercive, controlling parental relationships in detail. It's strengthened by a luminous performance from Samson, who fully expresses Dalva's bewilderment and brings us inside her turbulent emotional journey with honesty and insight.
This film was programmed for Southampton Film Week in partnership with The Phoenix Film Society
How to Book
Tickets for individual films can be obtained from Union Films Box Office. You will first become an Associate Member (£3) and then each film will cost £6. Do leave enough time to join and get your ticket before the film starts promptly at 8pm.
Membership with The Phoenix Film Society
By being a Full Member you will be supporting The Phoenix's ability to show quality world cinema. You will be entitled to see all the films in the Season (October 2023 - May 2024) without any further payment. This means no queueing: you just show your Membership card as you walk in and take your favourite seat!
If you just want to see the occasional film then you can become an Associate Member. Associate Membership for the Season costs £3. In addition to this we will make a per-film charge of £6. So, your first visit will cost £9 and on subsequent visits, upon showing your Associate Membership card, you will get the discounted rate of £6.
Associate Membership and tickets are available on film screening evenings at Union Films Box Office. Please ensure you leave enough time to get these before the start of the film at 7:30pm when the Box Office closes.

Love According to Dalva is Triple F-Rated.
Directed by a woman, written by a woman and starring a significant woman.
F-Rating is a rating for films directed by women, written by women and/or with significant female characters on screen, in their own right. The F-Rating was founded by Holly Tarquini in 2014 Find out more here