Maisie (2021)
Sunday 13 November 2022 at 7:00pm
Dir.  Lee Cooper  | UK | 1h 16m | 15 | Documentary | Subtitles
'Old Age can be a Drag.'
An intimate portrait of ageing and friendship as Maisie Trollette, Britain's oldest drag act, prepares
for his 85th birthday and meets 87 year old Darcelle XV, Guinness World Record Holder from the
USA for the very first time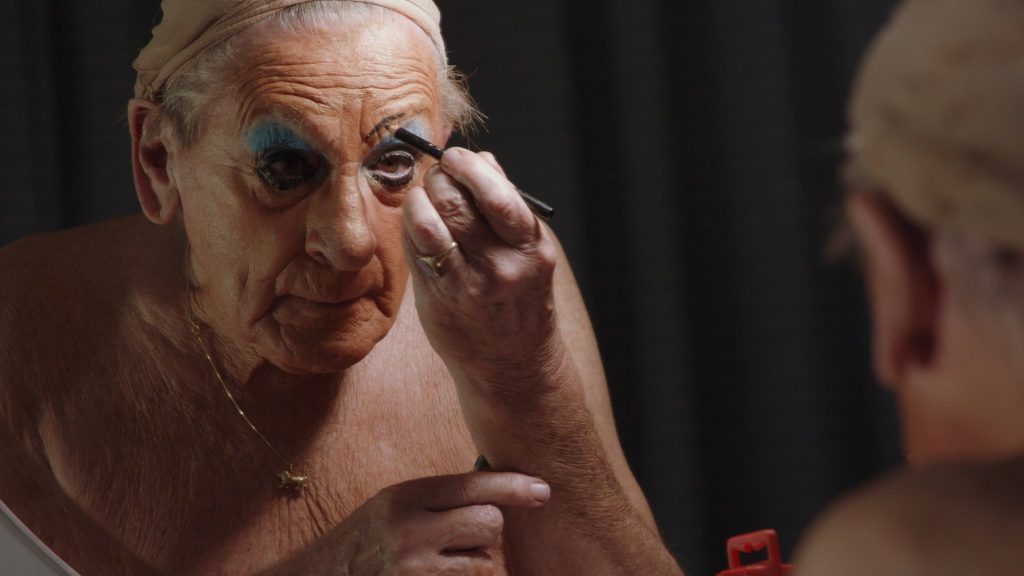 After fifty long years in the business, Mr. David Raven is still shaking his sequins as 'Maisie
Trollette', Britain's oldest working drag artiste. David's 85th is fast approaching and a special birthday performance has been arranged in the UK's capital of camp, Brighton.
At 87, Walter Cole is The Guinness Book Of Records Oldest Performing Drag Queen in the
World and he is flying over from Portland, USA to meet David for the very first time.
But professional rivalries soon flare between Britain's feisty Pantomime Dame and America's
regal Pageant Queen, and as his birthday grows nearer David must deal with the unique
challenges that performing in your eighties can bring.
David has recently been diagnosed with health issues, and the surprise birthday event only adds
to his growing anxiety. But ever the professional, 'Maisie' gives the performance of a lifetime as
she looks back on half-a-century of entertaining.
Featuring Broadway classics such as 'Lady is a Tramp', 'One', and 'If I Never Sing Another Song',
MAISIE is a hilarious, heart-warming and often heart-breaking peek into the world of a character
more colourful than his gowns.
Director's Statement
There are many amazing 'coming out' stories committed to film, but how often do we get to see
the other end of the tale? I wanted to explore what it means to be queer in our twilight years.
Over the course of three years I was fortunate to be granted unique access into the colourful
world of both David Raven and 'Maisie' as he prepared for his 85th birthday with all the
challenges that can bring.
The first cut was a very different film. The 'life of' rather than a 'day in the life of'. But the fashion
art director in me became obsessed with the intimate detail. His use of an old Brillo pad to apply
his foundation. The soiled old tights he uses as a wig cap.
I soon realised that the voiceovers and anecdotes were detracting from the real story. Instead, I
wanted to capture the beauty of old age. The drama that can be found in watching an old man
struggle to get into a pair of glitter heels.
Old age is not 'sexy', and the LGBTQ older community in particular don't want to talk about it.
But who will look after us when we are older if we don't have children or are estranged from our
families at a younger age?
Hopefully we have created a story that transcends the LGBTQ community and is ultimately an
inspirational look at the life of a remarkable individual.
The fifteenth annual Southampton Film Week - Celebrating film across the city.
11-21 November 2022 www.southamptonfilmweek.com
A note on ticket prices:
At Southampton Film Week we want everyone to be able to watch great films together. In response to the financial challenges that so many people are facing, and with the support of our partners, we have adopted a 'pay what you can' approach for some of our events.
If you are able to pay towards the cost of your ticket and to help make the festival affordable for others please do buy a ticket or make a donation.
If making a donation would be difficult for you financially please don't be deterred from booking a ticket and coming to enjoy this event. Please use the free ticket option if this is best for you.
Enjoy the film and thank you for your support.