ON RESISTANCE STREET
Unclassified (age guide 16+) | 2023 | Dir. Richard David | Documentary | UK | 120 mins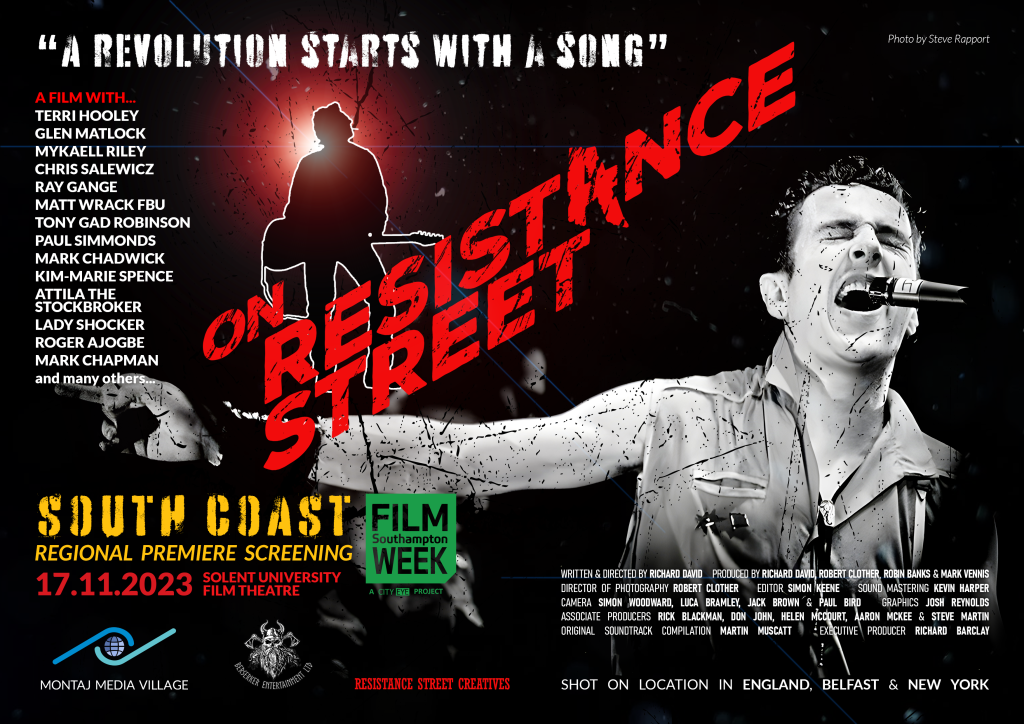 ON RESISTANCE STREET is a feature documentary, produced by Montaj Media Village in Southampton. The film is an in-depth examination of the role which music plays in the fight against fascism and racism and features many renowned musicians, writers, commentators and activists. Among contributors are original members of Steel Pulse, Aswad, The Sex Pistols, Stiff Little Fingers, The Levellers, The Men They Couldn't Hang, Belfast Punk Godfather Terri Hooley, author and Joe Strummer biographer Chris Salewicz, Fire Brigade Union leader Matt Wrack, National Organiser of 'Stand up to Racism' Weyman Bennett and many others. 
ORS was a two year project, shot on location in England, Belfast and New York.  It carries an original soundtrack of 20 songs which will be released as an album in 2024. 
The film revisits the 'Rock Against Racism' movement of the late 70s, noting its influence on future waves of radical artists and political activists. It also shines a light - for the first time on film – on a 1950s organisation ''The Stars Campaign For Inter-racial Friendship'' which was founded by a group of famous British Jazz musicians and entertainers, in the wake of the 1958 Notting Hill riots and provided venues in West London for black and white youth to socialise together. The role played by Punk Rock, in uniting young people in 1970s sectarian Belfast, is also featured.
In addition to historical elements, ORS tracks the disturbing contemporary drifts to the Right across the political west and the role of anti-racism social media groups inside today's cultural battlegrounds. It looks at Grime music today and the historic role played by black musicians in British music.
Southampton Film Week is delighted to present this Regional premiere of ON RESISTANCE STREET in partnership with Solent University. A Q&A with Director, Richard David and Crew will follow the screening.