THE FUTURE OF CINEMA
Panel discussion with Professor Sarah Atkinson (KCL, Associate Professor Roy Hanney (SU) and PhD candidate Daniel Bowring presented by Solent University in partnership with Southampton Film Week.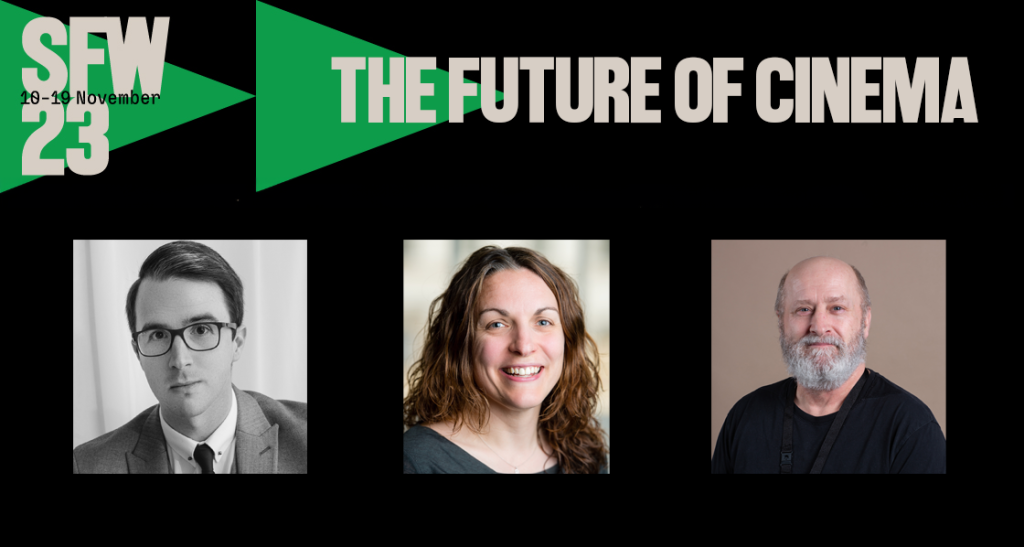 Join Solent University and Southampton Film Week for a Panel discussion highlighting the exciting theme of "The Future of Cinema."
Speakers:
Dr Roy Hanney
From reel to real: a systematic review of the evolution and relevance of live cinema as a contemporary cinematic experience
Dr. Hanney has published widely on the use of live projects to bridge the divide between higher education and the world of work. More recently, Roy has turned towards creative talent development and community engagement as an important strand of his research. With a particular interest as a creative practice researcher in the development of community-driven, immersive, audio-visual art projects, he has delivered a number of Arts Council immersive audio-visual experiences in his hometown of Portsmouth, including Octopuses & Other Sea Creatures (2022), and is developing Rituals for Earthly Survival for delivery in 2024.
"In recent years, live cinema has emerged as a contemporary mode of experiential entertainment, offering audiences novel and immersive experiences that extend beyond traditional cinematic boundaries. This systematic literature review aims to identify, analyse, and synthesize existing research on live cinema, with a focus on determining future lines of inquiry, pinpointing new research questions, and identifying gaps in the current body of knowledge. A comprehensive search for recent journal articles on the topic yielded 21 primary studies for review. The findings reveal that live cinema events, such as Secret Cinema and immersive cinematic experiences at venues like the Prince Charles Cinema, are characterized by their unique blend of film viewing, interactive elements, and participatory audience engagement. These events often disrupt conventional viewing strategies, fostering active fandom and blurring the lines between spectator and performer. However, despite their popularity, there are concerns related to branding strategies, commercial culture, and the authenticity of the experience. Furthermore, the studies underscore the importance of the communal aspect of these events, the emotional investment they elicit, and the specialized relationship between the audience and the text. In conclusion, while live cinema offers a rich avenue for experiential entertainment research, there remains a need for further exploration of its economic implications, its impact on traditional cinema, and the broader cultural shifts driving its popularity. Future research should also delve deeper into audience perceptions, the role of technology, and the sustainability of this entertainment mode."
Daniel Bowring BA (Hons.) MA PGCLTHE FHEA
Post-Pandemic Intermediality - The Convergence of Theatre and Cinema 
Daniel is currently undertaking a PhD at Solent University in Southampton and whose research surrounds intermediality, the relationship between live and digital performance. Daniel studied his Bachelor of Arts degree at Solent University reading Film and Television Studies and then went on to complete a Masters degree in Theatre Directing at the University of East London. He has also completed a Post Graduate Certificate for Learning and Teaching in Higher Education for Theatre and Performing Arts at Rose Bruford College and has obtained a fellowship to the Higher Education Academy.
Daniel has worked both as a performer and a theatre director and produced several theatre productions. Having had experience in both theatre and film, this has built the foundations for his PhD research project. On the back of completing his Masters degree during the height of the Covid pandemic, it became apparent that an investigation into how film and theatre came together during Covid and the effects the pandemic had on them warranted a PhD research project. Daniel hopes to complete his PhD and use his research findings to teach at university level.
"This talk, Post-Pandemic Intermediality - The Convergence of Theatre and Cinema,  examines more closely the specific relationship between theatre and cinema during the pandemic through the mediatisation of social culture and the uses of technology. This talk questions now that society is in what could be considered a post-pandemic era, whether there is a greater shift in how theatre and cinema relate and work together and whether any of the methods used during the pandemic have now firmly established themselves as credible possibilities of creation, accessibility and immersion beyond traditional theatre and cinema. The pandemic increased society's reliability on technology and media, with the increase in streaming services, particularly in cinema, and the need for more accessibility, theatre has started to adopt many of the already established cinematic conventions such as dedicated streaming platforms and tailor-made immersive experiences. The pandemic has very much bridged the gap between theatre and cinema and creatives are now beginning to establish a hybrid relationship between theatre and cinema as a more conventional mode of practice. This talk showcases these findings undertaken through the early stages of a PhD research project."
Professor Sarah Atkinson:
The Future(s) of Cinema: Live, Immersive & Experiential
Sarah Atkinson is Professor of Screen Media at King's College London, Editor of Routledge Resources Online: Screen Studies, and co-editor of Convergence: The International Journal of Research into New Media Technologies. Sarah has published widely on the film, cinema and screen industries including extensive work into the Live Cinema economy. She has worked on numerous funded immersive media projects and virtual reality initiatives. Sarah also adopts practice-based methodologies through the creation of her own original works which include video essays, an interactive documentary, immersive experiences and short films (including Live Cinema – walking the tightrope between stage and screen - Learning on Screen Award 2020 nominee).
The film industry has experienced a series of significant disruptions over the past 15 years which have collectively and indelibly changed the course of cinema viewing experience.
The wholesale of integration of digital film into the production workflow not only changed the style and aesthetics of film form, it opened up new channels of digital distribution and access. These included new streaming-only models with Netflix debuting their first original film in 2015 (Beasts of No Nation, Dir: Cary Joji Fukunaga) then other filmmakers of influence soon following suit with 'Netflix first' releases including Roma (2018, Dir: Alfonso Cuarón).
The COVID-19 pandemic in 2020 impacted on both film consumption patterns and cinema production. With access to films restricted entirely to home viewing, on-demand only releases intensified. The industry accelerated their use of virtual production - a suite of tools using Real Time Game Engines across the entire film production chain. Meanwhile immersive technologies opened up the possibility for audience engagement in 360-degree space at a time when the the large scale immersive experiences including those by Secret Cinema were halted.
Cinema-going has not yet returned to pre-pandemic levels and questions remain as to whether it ever will – despite the high-profile box-office breaking one-off events which have provided a life line – including the Barbenheimer dual release and most recently Taylor Swift's most profitable concert film of all time. Swift's release has marked yet another key turning point - shifting the status of the traditional cinema-viewing environment through its melding with a live event.
Drawing from my research, I will reflect upon the outcomes of these various evolutions along the vectors of live, immersive and experiential, which I argue all involve the re-authentication of cinema as collective experience and which ultimately lead to a cinema of many futures.
Tickets are Free but please book in advance.