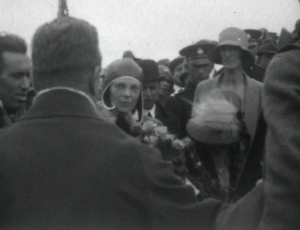 Always a popular element of the SFW programme, we are delighted that Wessex Film & Sound Archive join us again to present this special event for the festival. 
Wessex Film & Sound Archive holds 38,000 historic film and sound items dating as far back as 1898.  This film looks at a selection of amateur films made by local filmmakers during the 1920-1950 period, with a particular focus on representation and visibility of underrepresented groups.  The film commentary is provided by Zoë Viney, Curator of Film at Wessex Film & Sound Archive (WFSA), based in Winchester and also Postgraduate Research Student in Film at Southampton University.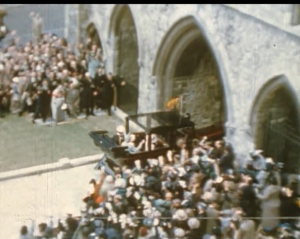 Zoë's research seeks to explore gender and class in the amateur film collection of WFSA between the years of 1920-1950. 
WFSA is a regional repository for historic film and sound items from Hampshire, Isle of Wight, Berkshire, Oxfordshire and Buckinghamshire.  Of its 38,000 plus items there exist some 12,000 cinefilms. 
In her commentary, Zoë seeks to explore how issues of visibility, attribution and representation impact on our understanding of this regional collection and how this can serve to contribute to a wider view of amateur filmmaking in the UK. Zoë has a background in historic textiles and dress and in particular the interaction between gender, socio-economics and lived experience, as depicted in amateur film.   Zoë's qualifications include: BA Film and History of Art and Design, University of Southampton (2003-2006), MA Museums and Galleries: History of Textiles and Dress (2008), Projects in Controlled Environments 2 (2012)
This compilation of film with commentary lasts for 35 minutes.  The film is free to view and you will be sent a link when booking.  This link will be live until 11.30pm on Sunday 22 November enabling you to view at your leisure.
This event, focusing on amateur filmmakers is part of a wider BFI, National Lottery and Hampshire Archives Trust funded project: Making History: making movies.

The event is supported by a Mayflower 400 community heritage grant as part of Southampton's Mayflower 400 programme. The anniversary year seeks to celebrate Southampton, a city and a community, built on journeys and migration, whilst increasing access to and engagement in culture. City Eye, the organisation which organises Southampton Film Week, is grateful to have been awarded funds to create a Heritage Film Archive enabling exploration and greater accessibility to its collection relating to Southampton's diverse communities.